Domaine Le Vignal – 8 Gîtes climatisés & 1 Chambre d'Hôtes – Monflanquin
 » Genuine holidays, unique sensation »
LOVELY PLACE AT THE FOOT OF A VILLAGE HOUSE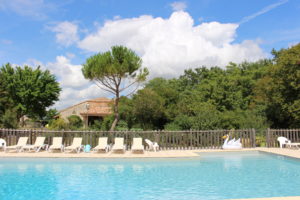 Pascale and Eric will be happy to welcome you to Domain Le Vignal, located in Lot et Garonne (Aquitaine, South West of France).
In a pleasant and quiet place, the Vignal is located on a eight acre-park and includes eight charming and fully renovated cottages and a four persons guest room (B&B). In the spirit of « village vacance », parents and children will be able to meet around the swimming pool or in the common spaces.
Come to discover this beautiful tourist region and rich of a historical, cultural and gastronomic heritage where many activities are possible.

We are sure that you will fall under the charm of this beautiful place, at the foot of the bastide of Monflanquin and we will do our best to ensure your well-being during your stay.
We are sure that you too, will appreciate this charming place, situated at the foothill of the "bastide of Monflanquin".
We, Eric and Pascale Famy, cordially invite you to our gites, named "Domaine le Vignal" in the lovely little town; Monflanquin, South West France.
From our domain, you can enjoy the beautiful rolling countryside, visit other "bastide-villages » from the Middle-Ages. Also, you will explore the peace and quiet from this interesting area also known as little Tuscany
Monflanquin is located between the rivers Dordogne and the Lot in the north-eastern part of the department of Lot-et-Garonne. Just 25 miles from the airport of Bergerac. (www.bergerac-aeroport.fr)   
Services
Wifi network accessible broadband in the houses and in the park.
A secured swimming-pool (14 meters x 7 meters) flowing from shallow to deep, terraces with sunbeds and parasols.
Openning hours : 10AM to 8PM.
The children will find a play-ground with climbing frames, swings, seesaw and a large trampoline. The recreation area offers a table-tennis, pétanque pitch, mini-foot and a pool-table.
In the spacious main foyer you will find a TV and a library-closet.
All information about the area and various local activities can be obtained from the reception desk.
Delivery every morning from fresh bread and pastries in the cottages. We accept pets on the Domain.
For your laundry there is a laundry-room with 2 washing machines (free of charge) and ironing facilities.
Steven Cremers
04/10/2022
Zeer vriendelijke, gastvrije en creatieve uitbaters. Propere gites, een mooi zwembad en veel (gratis) randanimatie voor de kinderen op het domein. Een aanrader! Monflanquin is daarboven een zeer mooie streek.
Tom Vander Eeckt
03/10/2022
We had a very nice stay in a very well equiped gite at Le Vignal this summer. The owners are very friendly and always present to answer questions and to give interesting information on things to do and to visit in the region. Nice swimming pool and the perfect place for people who like a quiet vacation. We will definitely return ! Family Vander Eeckt.
Ben van den Berg
01/10/2022
For the third time we've been to Le Vignal. And again we've had a great holiday and it felt like coming home. Eric and Pascale are great hosts!
Très bon accueil. Très bon conseil pour les visites.
Axelle Bienvenu
23/08/2022
Nous avons séjourné 1 semaine au sein de la chambre d'hôte du domaine avec mon compagnon et notre chien. Nous ne pouvons que recommander Éric et Pascale qui sont des hôtes accueillants, bienveillants, aux petits soins, qui savent créer des moments de convivialité tout en permettant à chacun de garder son intimité. Ce domaine est un vrai havre de paix. Au cœur de la nature, l'emplacement offre la possibilité de randonner directement à partir du domaine, avec une superbe vue sur le village de Monflanquin. Merci beaucoup Pascale et Éric et à bientôt !
Aurélie Depeyre
17/08/2022
Nous avons passé une semaine au début de nos vacances dans le gîte de Pascale et Éric et que dire de plus que nous avons adoré cet endroit où nous nous sommes sentis comme à la maison ! Du confort du gîte en passant par la magnifique piscine, toutes les activités pour les enfants et la table d'hôtes (grosse régalade avec les lasagnes de Pascale !), nous sommes tombés sous le charme de ce lieu, et enchantés de la convivialité de ses hôtes ! Un lieu parfait pour se ressourcer en famille !
stephane huchet
22/07/2022
Très beau cadre et des patrons dévoués et très gentils
Véronique Augustine De Savigny
11/06/2022
Nous avons organisé des retrouvailles familiales au Domaine Le VIGNAL pour le WE de Pentecôte. C'était formidable. Pascale et Eric sont très accueillants et disponibles et discrets. Tout était parfait : les gîtes sont confortables et très joliment décorés, la piscine est superbe, le domaine est très vaste, les jardins sont très beaux. Beaucoup d'activités sont à notre disposition : jeux de fléchettes, trampoline, terrain de boules, badminton… Les repas, préparés et cuisinés par Pascale et Eric étaient très bons. Bref, grâce à nos hôtes, notre WE au VIGNAL était génial. Pascale et Eric MERCI
Cloudberry Stéphane
15/05/2022
Excellent, lieu magnifique, les propriétaires sont super sympa, parfait pour différents type d'activités, et également pour les enfants qui ont passé un super moment !