Very pleasant and comfortable area. Nice place. Small holiday village with other people/children.
Ideal for holidays with friends in a small domain suitable for children where everyone is in their gîte.
We accept animals on the Estate.
Table d'hôtes and activities offered to families during the week:
– Fresh breads and pastries delivered every morning to your gîte.
– Saturday : optional arrival dinner, homemade and delivered to the gîte with melon, homemade lasagna, rosé, bread and chocolate fondant
– Sunday evening, free tasting of pancakes made at Bilig for children and meeting with families
– Monday morning, free pastry workshop for children and creation of cupcakes decorated and made by children
– Tuesday common dinner under the barn
– Wednesday evening, pizzas to take away
– Thursday evening, local producers' market in the Bastide of Monflanquin
– Friday evening (or other evening) night swimming pool until 10 p.m.
– Football evening with parents and children on the football ground
– Tractor rides for kids with Eric in the park
A large secure swimming pool of 14 meters x 7 meters with 3 levels of depth and a large terrace in exotic wood with deckchairs and anti-UV pergola. Opening hours: 10 a.m. to 8 p.m.
A playground with climbing frames, swings and a large trampoline. The leisure area offers a ping-pong table, a petanque court, a volleyball net, a badminton net. Many bikes on loan free for children.
A television and a library in the common room and all the tourist documentation available.
Two washing machines available free of charge and an iron.
Activités et Loisirs à proximité
Vous trouverez à Monflanquin tous les commerces et services.
Monflanquin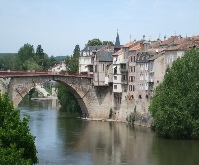 Eén van mooiste dorpen in Frankrijk.…  Gelegen aan de buitengrenzen van de Périgord-noir (Dordogne) Het middeleeuwse dorp, een bastide, ligt boven op een heuveltop tussen de rivieren Dordogne en de Lot, met een typisch frans karakter.. Elke donderdag-ochtend is er de week-markt, terwijl je 's avonds kan aanschuiven aan lange tafels en kan genieten van het lekkers van de gezellige eet-markt. Maar natuurlijk kan men ook in tal van restaurantjes in de buurt de regionale keuken proeven! En dan zijn er ook nog pizzeria's…..etc.
Meer informatie
Door de gunstige geografische ligging zijn ook andere bastide-stadjes makkelijk te bereiken zoals o.a Villeréal, Monpazier en Villeneuve sur Lot. Maar ook de kastelen van Biron, Bonaquil en Duras. Of maak een grotere tour naar middeleeuwse steden zoals Sarlat of Agen, en eindig deze door de wijnstreken van Bergerac of Cahors.
Van mei t/m september zijn er in de regio diverse markten, feesten en festivals te bezoeken.
www.france-sud-tourisme.fr/lot-et-garonne/panoramas
Tourisme47 Spécial Groupes 2016. www.monflanquin-tourisme.com Office de Tourisme – Tél : 05 53 36 40 19 http://www.lougratte.com/nlbaignade.html http://www.chateaudegavaudun.com/
Tours Rond
Schilderworkshop voor kinderen
Ben je een beetje creatief? In juli en augustus organiseren we een  « schilderworkshop » en een workshop « een cadeau decoreren » voor jong en oud. De workshosp worden begeleid door Jeske Tuerlings.